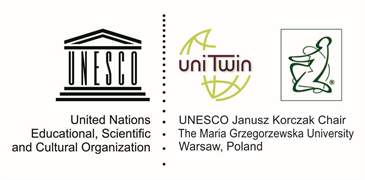 ---
UNESCO Janusz Korczak Chair 
Due to the planned research, didactic and organizational activities, the UNESCO Janusz Korczak Chair is looking for partners among other UNESCO Chairs.
---
Chair Team
The UNESCO Janusz Korczak Chair is being completely reformed.
Prof. Dr. Anna Odrowaz-Coates – Chairholder
Associate Professor at the Social Pedagogy Department (Project lead for International Summer School and for RC25 ISA Conference on Language and Society. Research Advancements in Social Sciences.)
Dr. Marta Kotarba – Administrative Secretary
(Project lead for A Blog as open learning platform for the field of Early Childhood Education about Research and Innovation to support Disadvantaged and Diverse Children and for Erasmus exchange programmes)
The Chair is a university structure with an open formula, including researchers from multiple Departments, volunteers and trainees, in accordance with the organizational activities and research projects.
VOLUNTEERS AT THE UNESCO CHAIR
Jakub Proszowski - The head of volunteers 
Claudia Chovgrani
Veronique Ebana
Tatiana Kanasz
Katarzyna Odyniec
Magdalena Roszak
Katarzyna Szolc
Małgorzata Agnieszka Zambrowska
Edyta Żebrowska
Associated researchers:
PhD Candidate Marta Bielawska - inclusive education specialist
Lidia Kurcinska, MA - pedagogue, independent researcher
PhD Candidate Alfred Tuci - Albanian
Dominika Zakrzewska-Olędzka, Phd - Hebrew
PhD candidate at UCL Basia Vucic - Chairperson for Australian Korczak Association
We currently look for a  volunteer fluent in French.
Informations about UNESCO Janusz Korczak Chair (UNESCO website: Chair no 666)
Address:
UNESCO Janusz Korczak Chair
The Maria Grzegorzewska University
Szczęśliwicka Street 40; room no 3607, building C, 6th floor
02-353 Warsaw, Poland
Tel. (48 22) 589-36-00; extension number: 3607
unescochair@aps.edu.pl; acoates@aps.edu.pl
Host institution:
The Maria Grzegorzewska University
Szczęśliwicka Street 40
02-353 Warsaw, Poland
Tel. (48 22) 589-36-00; Fax . (48 22) 658-11-18
aps@aps.edu.pl; 
---
2019
Due to joint efforts of UNESCO Cathedrals at the Maria Grzegorzewska University (APS) and at La Universidad Iberoamericana (UNIBE) based in Santo Domingo in Dominican Republic, a formal agreement of friendship and cooperation was established between the two universities.
---
2014-2018
The UNITWIN/UNESCO Chairs Programme was established in 1992. The main objective of the program is to develop partnership and cooperation by building university networks and encouraging inter-university cooperation through the transfer of knowledge across borders.
UNESCO/Janusz Korczak Chair in Social Pedagogy was established in 2004 as a result of agreements signed by the Director General of UNESCO and  H.E. Rector of The Maria Grzegorzewska Academy of Special Education.
The name of the Chair was changed to:
UNESCO Janusz Korczak Chair in Interdisciplinary Studies on Child Development and Well-being.
The new name better shows the nature of the research and activities conducted by the Chair.
All of the Chair's activities are aligned with UNESCO's priorities in relation to humanities and social sciences. We undertake actions, which respond to the challenges of the modern world defined by Sustainable Development Goals. Themes and topics of organized events include: sustainable development, cultural diversity, human rights (children's rights), interculturality, intercultural psychology and pedagogy, as well as modern psychological, pedagogical and sociological challenges.
The UNESCO Chair Team conducts the interdisciplinary research programs, participates in conferences, seminars, debates, study visits (in Poland and abroad) and, since 2006, organizes the International Summer Schools for young academics, PhD Students and practitioners whose activities are connected with children development and well-being issues.
The primary objective of the Chair is to maintain and strenghten the international academic links in the field of interdisciplinary studies on child development and well-being, as well as to develop the international didactic cooperation.
Interdisciplinary, international and intercultural activities of the UNESCO/ Janusz Korczak Chair in Interdisciplinary Studies on Child Development and Wellbeing at the Maria Grzegorzewska University in Warsaw.
---
OUR PARTNERS:
International Janusz Korczak Association

In January 2016, Professor Adam Frączek - The Chairperson of the UNESCO Janusz Korczak Chair - and Dean of the Faculty of Education at Josip Juraj Strossmayer University in Osijek, Croatia - Professor Damir Matanović - signed a cooperation agreement

At 15 September 2016, Professor Adam Frączek - The Chairperson of the UNESCO Janusz Korczak Chair; Professor Stefan Kwiatkowski - His Magnificence Rector of MGPU and MS Barbara Sochal - President of the Polish Janusz Korczak Association - signed a cooperation agreement
This event took place on September 15, 2016 year, during the Opening Ceremony of the 10th - Jubilee -  International UNESCO Summer School. The Polish Janusz Korczak Association was a partner of your this event.  The Letter of Intent is a result of fruitful and long term cooperation between these two institutions and aims to intensify it in the future.
UNESCO Janusz Korczak Chair  in Interdisciplinary Studies on Child Development and Well-beingis one of Associated Members of CREAN Network: http://crean-network.org/index.php/membership/members
"CREAN aims to further enhance the academic field of children's rights as an interdisciplinary field of studies. The network is composed of European higher education institutions that work together to support the development of education, research and outreach activities.
The objectives of CREAN include:
Promote attitudes that recognise children as subjects of rights principally as set out in the UN Convention on the Rights of the Child.
Promote professional ethics that respect children as competent subjects.
Promote children's rights to resources and participation in decision-making.
Promote learning between advanced programmes on children's rights across European universities.
Produce innovative knowledge and meet the need of forming human resources within Europe and on an international level.
Foster cooperation between universities, public institutions and NGOs working in the field of children's rights.
To achieve these objectives, the activities undertaken by CREAN include:
The organization of conferences and seminars
Exchange of information (newsletter) and good practices
Promotion of the interests of its members
Exchange of students and teachers
Events for students and alumni
Research and outreach projects
Scientific publications"
Informations for CREAN's website http://crean-network.org/index.php/about-crean/objectives