The upcoming international conference on Sociology of Education: Wellbeing and Resilience in the Times of Crisis will take place at APS on 21-22.09.2023 and the Programme has been now published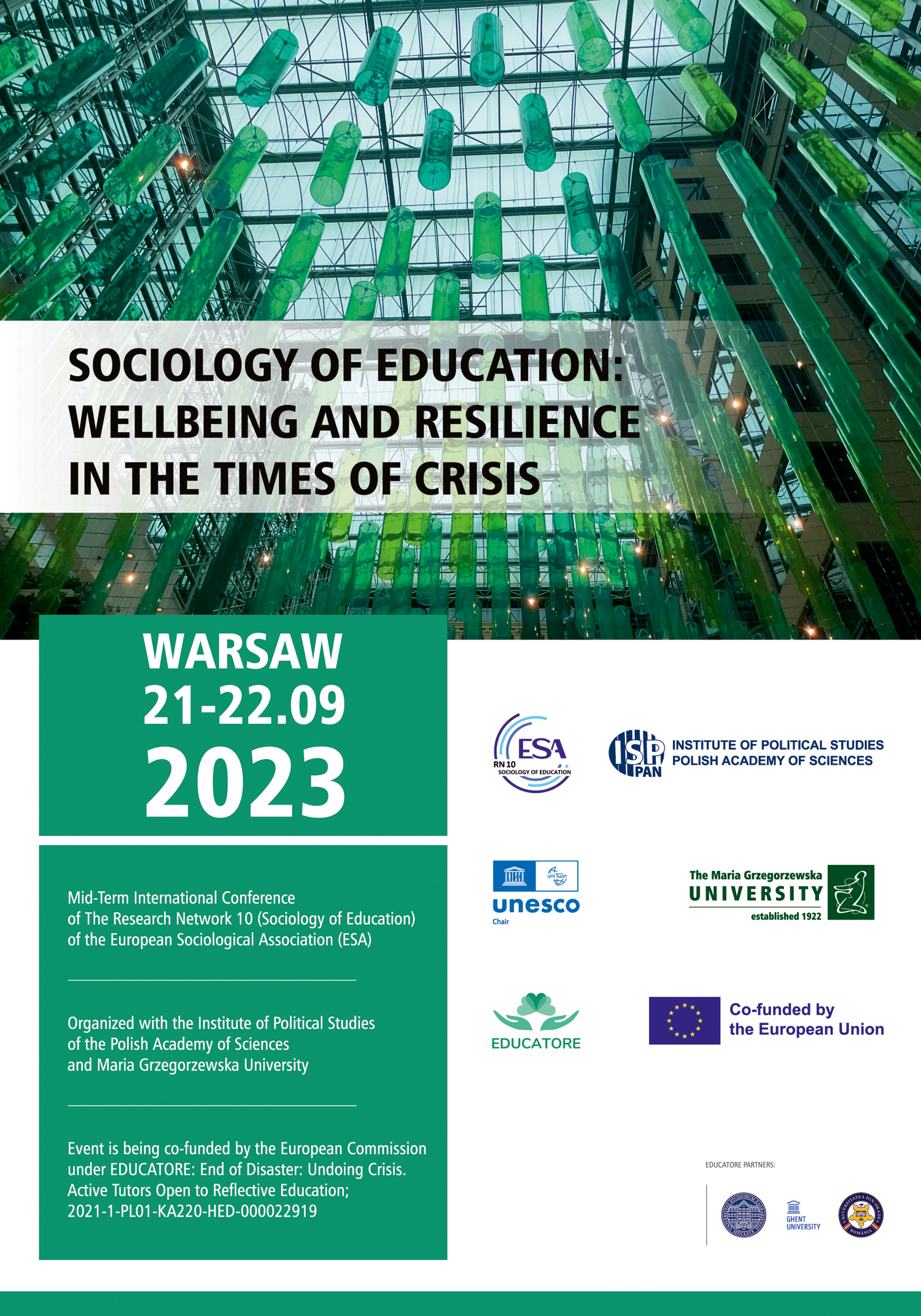 Poster of the Conference PDF available here 
Programme available here
Book of abstracts available here 
Conference venue:
Akademia Pedagogiki Specjalnej (APS)
Address: Ul. Szczęśliwicka 40
02-353 Warszawa
The conference is co-funded by the European Commission under EDUCATORE: End of Disaster Undoing Crisis, Active Tutors for Reflective Education, organized with support of the Polish Academy of Sciences: Institute of Political Sciences, European Sociological Association: Sociology of Education Research Network, Polish Commission for UNESCO.  
One of the highlights of the conference will be the launch of the EDUCATORE Project Website. 
Keynote addresses by:  
Adriana Aubert, University of Barcelona
Adrijana Viśnjić, Visnja Rajic, University of Zagreb
Pat Dolan, UNESCO Chair, Children, Youth and Civic Engagement  Director, Institute for Lifecourse and Society (ILAS)
Marthinus Stander Conradie, University of the Free State
Mark Brennan and Jamison Malcolm, The Pennsylvania State University
Taiwo Afolabi, University of Regina
Darrick Smith, University of San Francisco
Lieve Bradt, Rudi Roose, Ghent University
And the Grand Finale of the Art Exhibition "A word is a pretext" by Barbara Janina Sochal & Anna Ludwicka