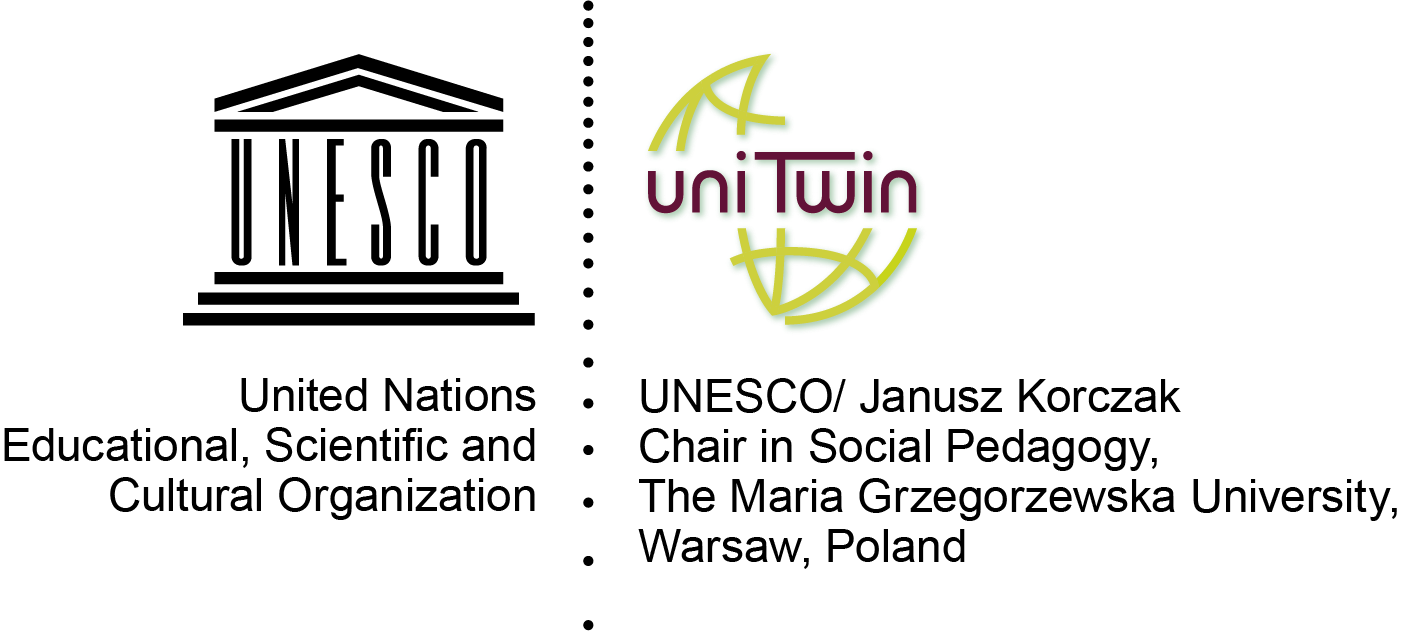 13th UNESCO Janusz Korczak Chair International Summer School
2020 will take place online in September 2020 with a short taster module available in July
"In Korczak's footsteps (Korczak's heritage and philosophy of education)"
We present this year's experts and tutors PDF link
This year, in the virtual city of Korczak we will host multiple representatives of 14 countries including researchers, educators and social activists from: Argentina, Brasil, Germany, India, Israel, Nigeria, Pakistan, Poland, South Korea, Spain, Syria, Turkey, USA and UK. We want to thank the Polish Commission for UNESCO, International Janusz Korczak Association and the Polish Korczak Association for their honorary patronages. We also want to express our gratitude to the Inspirator Foundation for enabling us to use their webinar tools. 

The interdisciplinary academic course is provided in English
and is aimed mainly at educators and researchers, towards key skills development
Draft content 14-18.09.2020
| | |
| --- | --- |
| Theme | Hours |
| Main Korczak's philosophical ideas | 2 |
| Korczak as global philosopher of education and childhood | 3 |
| Reflectivity practice with Korczak's lenses | 2 |
| In Korczak's footsteps around Warsaw - field workshop | 10 |
| The idea of self-governance and responsibility of a child: newspaper, court | 5 |
| Bobo, the infant perspective (Lecture and workshop) | 3 |
| Field workshops: 'critically' about Korczak | 6 |
| Korczak inspired Convention on Children's Rights | 3 |
| Stories and novels by Korczak | 4 |
| Reflective feedback – Korczak's toolkit for self-assessment | 2 |
| Hours total | 40 |
Place of study: Global reach. Led by the Maria Grzegorzewska University in Warsaw. All activities will happen online. Recruitment closes on the 14.06.2020. To ensure participation please fill in the registration form enclosed and send it to unescochair@aps.edu.pl; and pay the fee within 10 days from sending the form.
Participation cost: 450 PLN per person. (This is about 110 euro)
It covers course materials, content tuition and online course certificates.
Payment to Akademia Pedagogiki Specjalnej
Ul. Szczesliwicka 40
02-353 Warsaw
Account number: PL 84 2490 0005 0000 4600 6042 6422
Bank: Allior Bank SA
Swift Code (BIC) – ALBPPLPW
IBAN: PL
Payment ID: "Your Name, Surname. UNESCO Summer School"